SIMON | Quality Control Intern-Cheyenne, WY (Summer 2022)
Date: Oct 21, 2021
Country: Cheyenne, Wyoming, US, 82007
Company: Colas
Subsidiary: Simon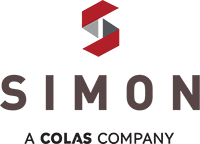 Simon is a subsidiary of the Colas Group, a worldwide leader in infrastructure construction and maintenance. Simon specializes in aggregates, asphalt and ready-mix concrete production, asphalt paving, and concrete, bridge, highway, and utility construction. Through strong local ties backed by global resources, we focus on quality and value to deliver the best products and services for our clients.  What we do is bigger than construction – it is about connecting communities, building new roads to the future, and keeping the spirit of the pioneers alive and well. 
Program Overview:
At Simon, we strive for the highest levels of employee safety, ethical standards, environmental stewardship, and quality in our products and services. We believe that achieving these standards leads to positive revenue and profit – more importantly, they ensure we are doing business the right way. 
Simon's internship program is designed to provide first-hand exposure to industry operations, as well as 1:1 mentorship and networking opportunities to students in order to supplement college educational programs in the areas of business, engineering, and construction management.  Students in the program have the opportunity to work in various administrative and operational areas, contribute to company goals through completion of focused project work, and apply concepts learned in the classroom to business operations.
Are you excited to put your classroom knowledge into action? We are looing for students who are excited to get their hands dirty by immersing themselves in quality control and production processes.  As an intern with Simon you will have the opportunity to tackle new challenges and projects, and gain real world working experience.  This opportunity will be based in Cheyenne, WY and it will require field visits to other Simon Locations.  Interns can expect to spend approximately 50% of work time in  the lab and 50% of work time in the field.  The ideal candidate should enjoy travel with some overnight stays to visit work sites. 
Summary:
Under direct supervision, the Quality Control Intern focuses on tasks and projects related to testing, gradation, and quality control of aggregate, asphalt, and ready mix products.
Responsibilities:
As part of the internship program, the QC intern will gain exposure to multiple areas of the business in regards to Quality Control including, but not limited to:
•    Support the Simon safety culture and other Company strategic initiatives
•    Read, understand, and have a good working knowledge of the basic specifications, principles, and products associated with the construction / aggregate / concrete / asphalt industry 
•    Inspect products for quality, identify and take corrective action as necessary
•    Ensure that accurate test results are reported daily
•    Review and analyze test results to determine causes of nonconformity with product specifications as required
•    Ensure all quality control operations and activities are conducted in conformance with company policies, regulatory agencies and acceptable working practices are in compliance with standards
•    Recommend measures to improve quality control methods, equipment, performance, service, safety and quality of products
•    Completes related projects as assigned
Qualifications, Education, Skills, and Experience:
•    Enrollment in a relevant degree program, including Quality Control, Construction Management, Civil Engineering, Geology, or related field of study 
•    Previous related experience preferred
•    Working knowledge of computers and experience with Microsoft Word and Excel
•    Ability to perform mathematical calculations
•    Experience in resolving problems and dealing with challenging situations
•    Strategic thinking, problem solving, and decision making skills
•    Excellent communication skills, both written and verbal
•    Valid driver's license and clean driving history required
Physical Requirements/Working Conditions:
•    Wear and maintain personal protective equipment (PPE) as required by company safety guidelines
•    Occasionally required to lift and /or move up to 50 pounds with or without assistance
•    Regularly required to use hands to feel,  handle and manipulate objects
•    Regularly required to communicate (talk and hear) 
•    Frequently required to stand, walk, sit, reach with hands and arms, and stoop, kneel, crouch, or crawl. 
•    Frequently required to communicate professionally in-person, over the phone, and via e-mail
•    Travel with overnight stays away from home may be required to visit job sites 
•    Frequently required to stand/work on feet for long periods
•    Frequently work in close proximity to heavy equipment and machinery, exposure to loud noise
•    Frequent exposure to typical construction site conditions, including dust and loud noise, and all weather conditions
Workplace Values Requirements:
•    Support, promote, and practice Simon core values, vision, and mission
•    Support, promote, and comply with Simon Code of Ethics, Workplace Conduct, Safety, and other established policies 
•    Embrace the Company's safety culture, actively support all safety initiatives, and adhere to defined accountabilities implemented by the Safety Steering and Continuous Improvement teams
•    Align personal vision and goals with larger goals of the Company
•    Support continuous improvement to improve Simon processes, performance, safety, and overall success
The information contained herein is not intended to be an all-inclusive list of the duties and responsibilities of the job, nor are they intended to be an all-inclusive list of the skills and abilities required to do the job. Management may, at its discretion, assign or reassign duties and responsibilities to this job at any time.
Colas Inc.and its subsidiaries (SIMON) are an Equal Opportunity Employer. For details on the specifics of this commitment, please click here EEO document.  If you need accommodation to access the information provided on this website, please contact Colas Inc. 973-290-9082 or send an email to ColasRecruiter@colasinc.com.  

Nearest Major Market: Wyoming
Nearest Secondary Market: Cheyenne